Prenatal support
Receiving a prenatal diagnosis affects people in different ways. Taking some time to consider all the available information about Down syndrome and your options is important. Our team can provide up to date and balanced information about Down syndrome. We can answer questions you may have and support you in the different stages of the decision-making process. We can also put you in touch with a family who has a child with Down syndrome. This can be a helpful opportunity to learn more about the day-to-day experiences of families and children who have Down syndrome.
Down Syndrome NSW believes that families have the right to feel supported in their choices no matter which paths they choose. We respect the right of families to make decisions appropriate to their own circumstances and beliefs.
The guide for expectant parents provides balanced information about Down syndrome to expectant parents. This includes parents who have already had some prenatal testing, as well as those who want more information about down syndrome for a range of reasons. You should feel free to read the parts of the guide that are helpful and appropriate to you.
The Resource Hub has prenatal resources and information. You can sort by topic and by the type of resource you are looking for.
We would also like to offer you a free Prenatal Information + Support Pack at no cost to you.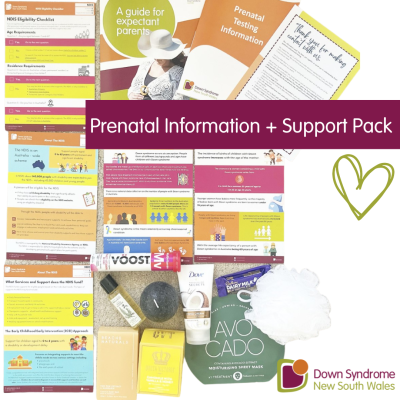 You can contact us by calling 9841 4444 or email prenatal@dsansw.org.au. Alternatively you can also fill out the form below and we will contact you based on your preferred method.
Prenatal and New Parent Form