About UPClub!
OUR MISSION
To support people with Down syndrome to achieve their full potential in life.
OUR VISION
Build skills for life, with people you know, in places you like to be.
OUR ABILITY
Down Syndrome NSW is registered with the NDIA and managed by people with lived experience and over 20 years experience in delivering services focused on capacity and inclusion.
---
UP! Club Upcoming Programs and Events
UP!Club is a statewide social connection group for adults with Down syndrome.
We meet regularly to socialise, improve our living skills and check out what's happening in the community.
We now offer a blend of both face to face outings in the community as well as online sessions via Zoom. Come and join us!
---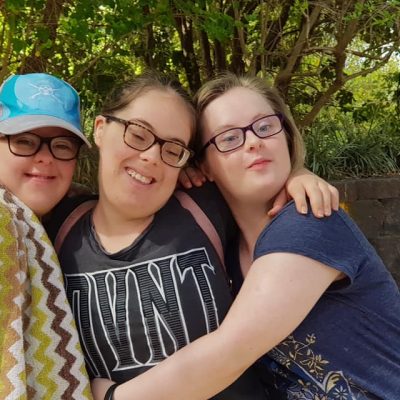 UP!Club Summer Camp 2022 – Registration of Interest
It's back and better than ever!
This summer, our ever popular UP!Club Camp is open to people aged 16 years and over with Down syndrome.
With a focus on workshops, varied activities for all abilities, connecting with friends and lots of FUN, our UP!Club Camp 2022 is sure to be our best yet!

Our amazing camp program features:
Relationships workshop
'What I Love About Me' workshop
Obstacle course
Sports and fitness activities
Yoga and meditation
Mindfulness workshop
Conversation skills workshop
Christmas themed arts and crafts
Morning walking group
Music and dance workshop
International Day of People with Disability celebration
And of course, the best dance party everrrr with a fun Christmas dress up theme and prizes for best dressed, best dancer and more!
Every participant will get their very own awesome camp t-shirt and hat too!
UP!Club Camp 2022: All you Need to Know

When: Friday 2 – Sunday 4 December 2022
Where: Collaroy Centre (22 Homestead Avenue, Collaroy Beach, NSW 2097)
Drop Off: Friday 2 December 12pm at Central Station or 2pm at Collaroy Centre
Pick Up: Sunday 4 December 202212pm at Collaroy Centre or 2pm at Central Station
Who: Teens + Adults with Down Syndrome aged 16 Years and Over
Cost: $1,950 Friday to Sunday plus $35 each way for transport if meeting at Central Station as we have a private coach transfer and staffing
Includes: accommodation, meals, snacks, service costs, activities, workshops, camp t-shirt, hat.
For those bringing a support worker, the camp cost is reduced by $300. We will provide accommodation and meals for the support worker and kindly ask that they assist your loved one during camp. We will also continue to provide support.
Registration essential – Register your interest now, Camp will fill fast!
Questions? Ask Nikki on email upclub@dsansw.org.au
---
How to join UP! Club
To particpate in UP!Club you will need:
A current active membership with Down Syndrome NSW
Please email or call 0298414444.

A current signed UP!Club Participation Form
Click here to download Participation Form

UP!Club Service Agreement
Click here to download Service Agreement
Other information
Contact us if you would like more information