Down Syndrome Queensland welcomes our Patrons into our organisation and look forward to working with them to promote the great work of Down Syndrome Queensland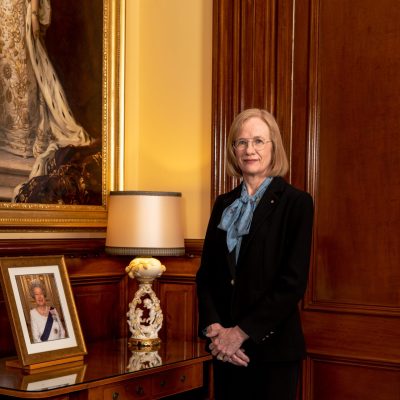 Her Excellency the Honourable Dr Jeannette Young PSM Governor of Queensland
Patron
Down Syndrome Queensland appoints Her Excellency the Honourable Dr Jeannette Young PSM, Governor of Queensland as a Patron of Down Syndrome Queensland in 2021.
In August 2005, the Governor was appointed to the role of Chief Health Officer for Queensland, with responsibility for leading the State's preventative health and public health agendas, including response to public health emergencies. In January 2020, when the COVID-19 virus outbreak was declared a pandemic, the Governor became the State Health Incident Controller.
During her medical career, Dr Young had specialist qualifications as a Fellow of the Royal Australasian College of Medical Administrators and as a Fellow by Distinction of the Faculty of Public Health of the Royal College of Physicians of the United Kingdom. She was also appointed Fellow of numerous other eminent education and research institutions, has received honorary doctorates from two Queensland Universities, and has received an Australia Day Achievement Medallion, as well as a Public Service Medal.
Her Excellency was sworn-in as the 27th Governor of Queensland on 1 November 2021.
Wayne Grady
Patron
Down Syndrome Queensland appoints Australian sportsman Wayne Grady as a Patron of Down Syndrome Queensland in 2019.
Wayne Grady won the Westlakes Classic just six months after turning professional at age 21. It would be a frustrating 17 second place finishes before Wayne would again taste victory at the 1984 German Open. He defeated Greg Norman in a 4 hole playoff for the 88 Aust. PGA Championship and went back to the States the following year to claim his first victory on American soil, the Westchester Classic, also in a playoff. Wayne went on to become one of only eight Australians to win a professional major tournament, the 1990 US PGA Championship. Wayne plays a very limited schedule now and lives on the Gold Coast with his family and looks after his varying business which include Wayne Grady Event Management, TV commentary and corporate golf appearances.