Are you, or someone you know, looking to enhance literacy skills, self-confidence, independence, and/or work placement opportunities?
This quote from one of our parents sums up our Latch-On program perfectly:
"I cannot be more positive about this carefully designed course for school leavers.
It gives young people like my son the opportunity to continue learning at their own pace in an environment conducive to their needs. Such a brilliant program with wonderful teaching and support staff. My son is not only continuing to learn academically, but practically as well. I'm so glad we discovered the Latch-On Program!"
Latch-On is an innovative, evidence-based literacy program creating real outcomes changing the lives of young adults with intellectual disabilities. The program provides opportunities for participants to increase their literacy skills in a post-secondary school environment by combining traditional literacy and numeracy teaching styles with technology instruction, also including health and fitness education.
My daughter, Anna, feels very confident and self-esteem when she is attending the Latch-On Course. This course helps Anna with lots of life skills training. Many thanks to the Latch-On Course Staff and the Down Syndrome Association.
I signed my son up to attend Latch-On, and I cannot speak highly enough of the staff for their professionalism in the way they have manage and tutor the students. The improvement in my son, interacting with staff and students, is nothing short of a miracle and I just cannot speak too highly of DSQ Staff and course, nothing short of "fantastic"
Developed by The University of Queensland, the program is backed by over 30 years of research. It is delivered two days per week, for two years, and is aimed at young adults who have goals of employment, further education or general independence.
Locations: Brisbane, Gold Coast, Toowoomba, Sunshine Coast
Why Latch-On:
Everyone is a learner with ideas worth communicating, and communities of practice create lifelong learning. – like the below:
Latch-On is uniquely positioned to deliver literacy outcomes for people with intellectual disabilities, as its framework is underpinned by the philosophy that:
The program recognises that like all learners, people with intellectual disabilities have distinct characteristics, behaviours and needs. Similarly, they are as diverse as other groups of learners in terms of their interests, previous learning experiences and aspirations.
When Latch-On participants and teachers work together to develop new understandings of and about language, literacy, and texts, they can be said to be developing a community—a community with literacy links to other social endeavours which assist in the development of lifelong learners. It is important to note that Latch-On is not an intervention program but the continuation of literacy instruction into young adulthood.
The improvements in literacy achieved by participants in the Latch-On program have been possible because of the unique focus of the program:
Unlike other literacy programs for individuals with intellectual disabilities, Latch-On is long term. The program is sequenced over two years with participants attending two days a week.

The program has been specifically designed for this group of learners and provides a responsive and flexible curriculum framework.

Latch-On draws on over 30 years of research into children and young adults with intellectual disabilities and has been successfully researched and conducted at the University of Queensland.

The four semesters of work in the program provide a balanced approach to literacy education and are fully resourced. All program strategies and activities have been developed and implemented based on the outcomes of high-quality research and are subject to continuous improvement.

Our qualified teachers have undertaken Latch-On Key Teacher training, accreditation and are engaged to deliver the program supported by trained tutors, wherever possible.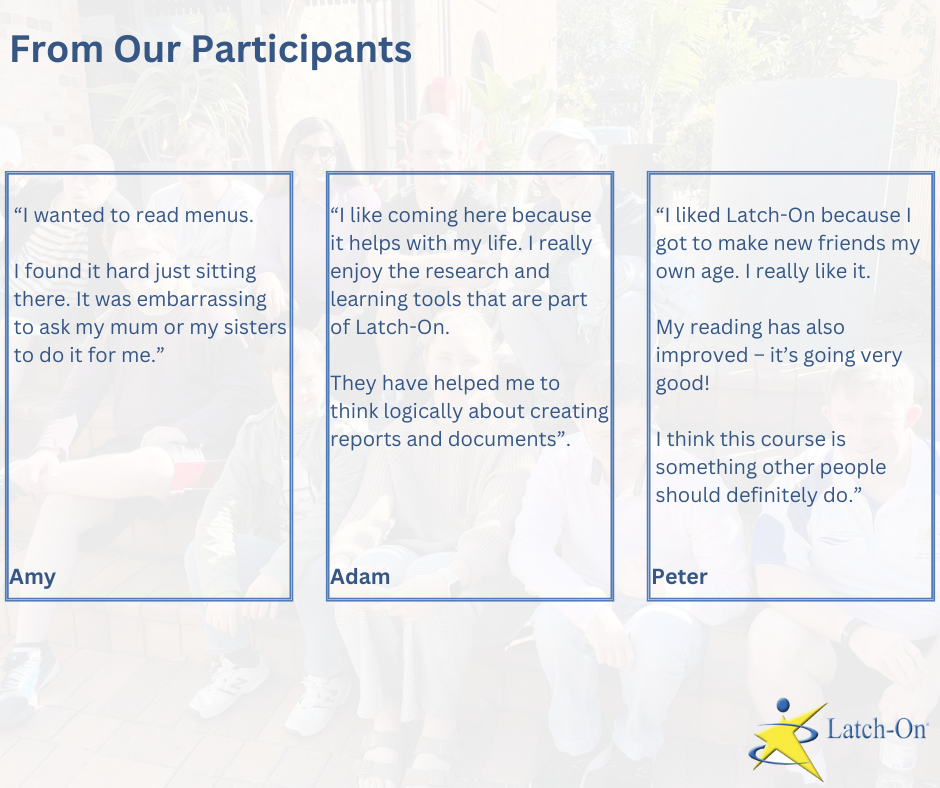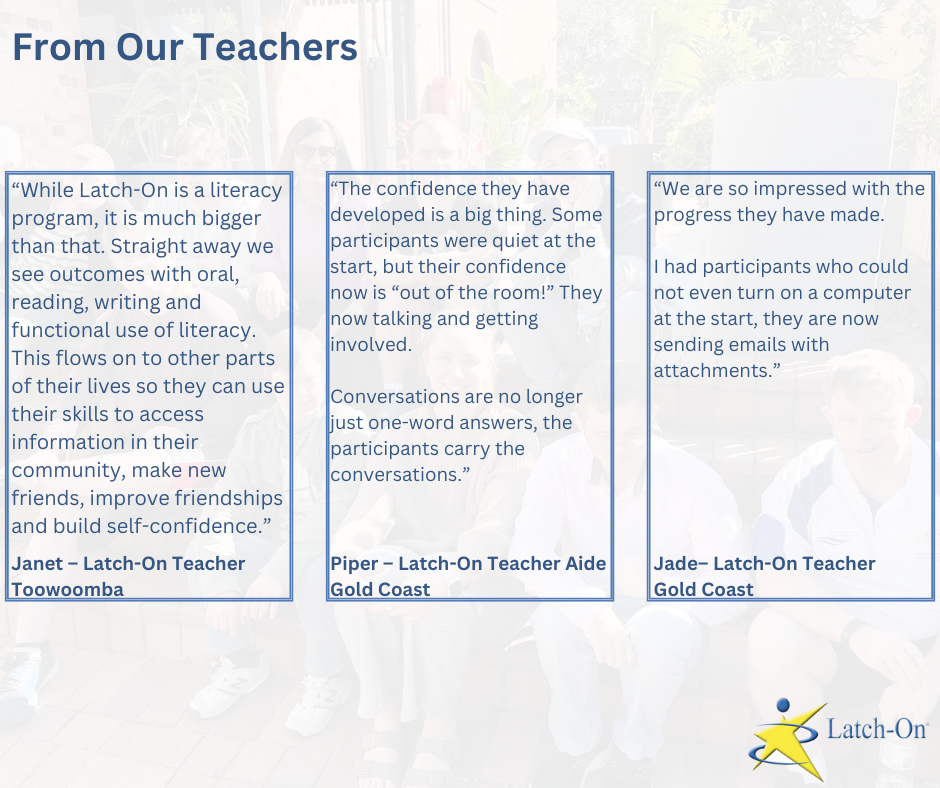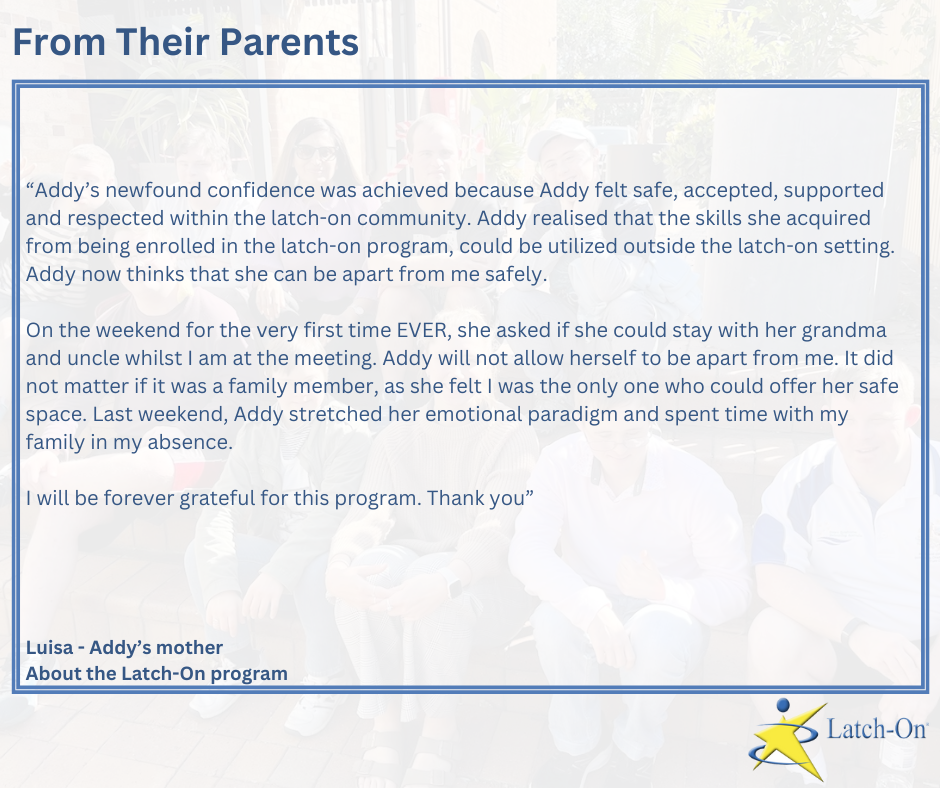 What is included in the program:
The Latch-On program is comprised of interwoven elements: talking and listening, viewing, reading, writing, the use of technology, and creativity.
Talking and Listening
Speaking supports literacy activities as well as being an important aspect of literacy in its own right. Talking is central in Latch-On. By talking, learners use language to communicate effectively. Every literacy activity should begin with talking and talking is an integral component of all reading and writing activities, for example, brainstorming, talking about ideas, talking about experiences, and talking about the task.
Viewing
Visual literacy is developed through activities such as viewing and discussing pictures, illustrations, photos, TV programs and movies. These activities also provide a bridge from talking to reading and writing tasks as the verbal analysis of concrete objects such as photos both aids memory and provides a focus for such tasks.
Reading
Reading is a complex, dynamic activity. It involves actively constructing meaning from texts. To do this a reader must be able to understand letters and symbols and how they come together in words and sentences to form connected texts. A reader must be able to ask questions about a text for example: does it make sense, do I agree with the ideas or is this text accurate? Perhaps the area of greatest importance in teaching reading is motivation. Modifying existing texts, or creating new texts to suit the interests and needs of the learner ensure that all learners have the best opportunities to construct meaning from text.
Writing
Learners need to be supported as they develop control over the processes of composing and shaping texts. They need to write in different genres, for example, poems, recounts, instructions, explanations, articles for a newsletter, and letters. Contexts for writing should be varied and involve meaningful tasks. Learners need real audiences for the publication of their writing so they can begin to understand relationships between reading and writing.
Technology
The Latch-On program has focused on using computers that learners would encounter in their everyday environment – home/libraries/workplace. Computers are no longer a tool for an elite group, they can provide opportunities for diverse users. Using computers to word process writing, to search the web, and to send and receive e-mails are regular activities in the program.
Creativity
Some activities within each module lend themselves to drama, art, poster making, photographic essays and displays. Literacy activities draw on learners' creativity and imagination allowing them to express ideas, and their relationships with their communities, in genres that are not restricted by more formal text types of reading and writing.
Sequencing
Sequencing activities both within and across activities are integral to developing literacy skills. Understanding and applying knowledge about sequencing, including explicit vocabulary, is important in clarifying thoughts when writing, in assisting learners to recount events orally in a cohesive manner, and in developing comprehension.
The Now and the Future Podcast – Season 4: Latch-On
Latch-On is delivered by Down Syndrome Queensland and aims to change the lives of young adults with intellectual disabilities, through its evidence based literacy program.
This two-year program is developed by the University of Queensland and delivered by DSQ to provide students opportunities to increase their literacy and communication skills.
In this episode, we will hear from Dr Anne Jobling, who led the research into and the development of Latch-On when it was first created and is still part of the program through the University of Queensland. We also hear from Latch On teacher, Janet Reed who talks to us about the Toowoomba Latch-On class and gives us an idea of what a normal day at Latch-On looks like. We will also hear from current participants and how they are benefiting from the program.
For more information on DSQ's Programs and how you can become involved, please contact Teagan on (07) 3356 6655 or email tcossor@downsyndromeqld.org.au
Additional Latch-On Information:
The Latch-On program is an international evidence-based, two-year literacy and technology program that has been transforming the lives of young adults with intellectual disabilities since 1998.
Click on the below for more Down Syndrome Queensland Services: