Employment is important for people with Down syndrome just like it is for anyone else.
But parents often have mixed feelings about employment options for their family member with Down syndrome, particularly in those final years of school.
Some questions parents might have are:
What does employment look like for my child with Down syndrome?
Do they have the right skills to get a job?
How do I support them to find a job?
Will they be able to get a job that they enjoy and that matches their skills and ability?
How much support will they need in their workplace? And where will they get this support from?
What if something goes wrong at work? Who will support them?
Having a job can mean having financial and personal independence, stronger connections with the community and a growth in confidence levels. So it is important to consider the different ways you can support your child with Down syndrome to explore some of the options available to them.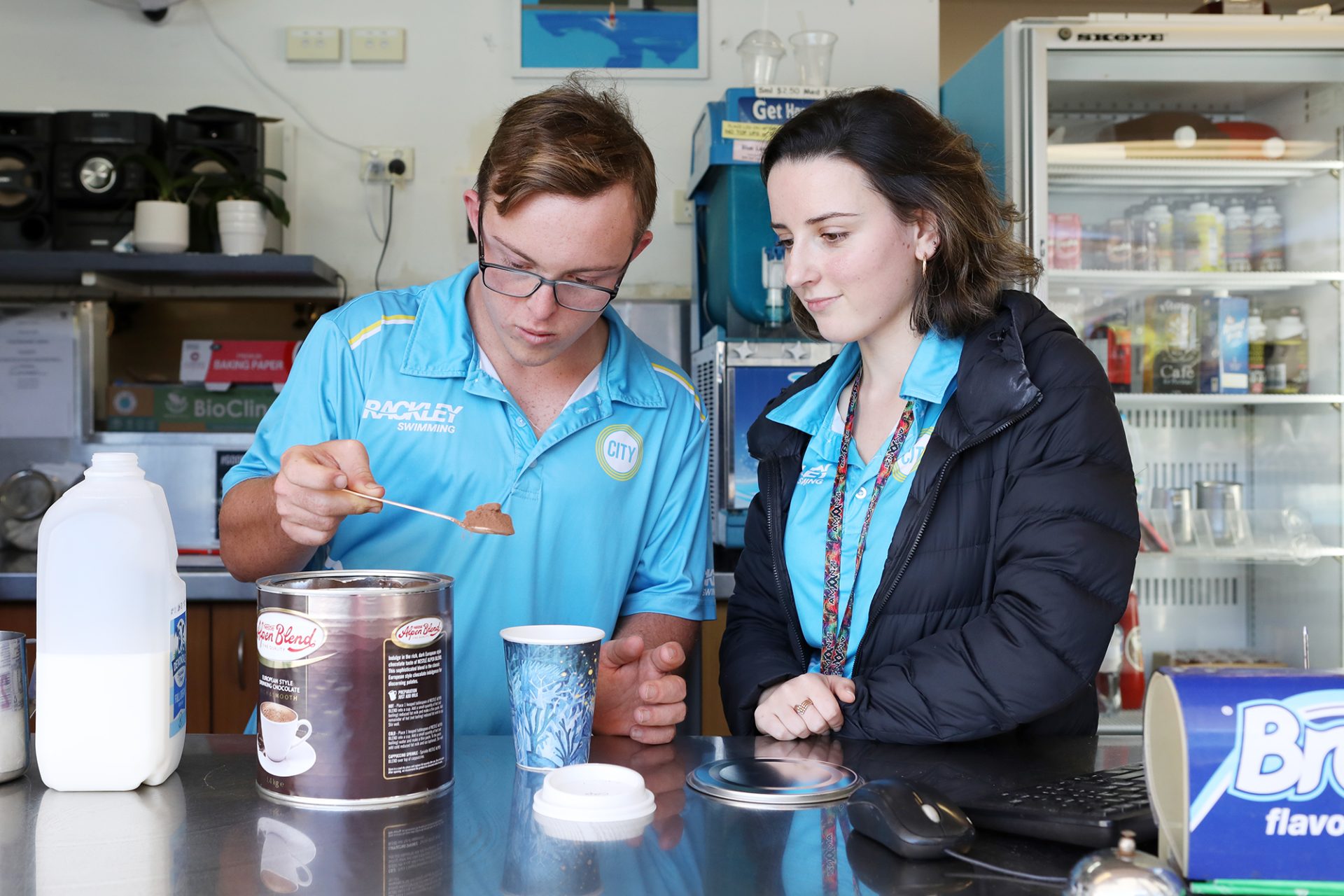 Setting foundations early in life
One of the best ways to overcome concerns is to start building the foundations of being independent during childhood years. Parents can do this by giving daily opportunities to help out in the home by setting up the dining table for meal times, preparing and cooking meals, doing the laundry, cleaning around the house, walking the dog, planning meals for the week, and helping out with some of the grocery shopping.
Some of the tasks that are given to the person may be difficult at first, as with anything new, but with the right support, encouragement, and by clearly communicating expectations, important skills can be gained from this learning process.
Allowing your child to problem solve for themselves and providing plenty of opportunities to help with household chores and progressively being able to carry out these tasks independently with minimal support, will allow them to feel more confident and identify what they are good at. Most times, these learnings can be the important bridge between the home and their future workplace.
When your child is in high school, support them to explore other ways that they can start building on their vocational skills. Parents can work in collaboration with the school and the person's support network to look at opportunities for the person to upskill by doing work experience, short courses, or volunteering. Many of these opportunities can teach the person with Down syndrome about work ethic, responsibility and about being proud of something they can do, and will allow them to feel more confident about going into paid employment.
Parent's expectations can contribute to successful employment outcomes
The expectations that family members have on the person with Down syndrome can influence their outcomes in employment. Research suggests that a person with a disability will be more likely to be successful in their future employment if the family members expect the person to get a job after school. The best way you can really start to focus on preparing them for work during those final years of high school is to have discussions about the following things:
Skills: Things that the person is good at
Interests: What the person likes
Goals: What the person wants to achieve
Values: What is important to the person
This process, also known as discovery, can assist the person to identify the areas of work that they are interested in and what they need to be working on to get the job that they want.
Resources for supporters
Other helpful resources
Guides for understanding employment supports
NDIS has a Guide for understanding employment supports. These resources help participants, families and carers think about what supports might best suit their individual needs.
Disability Support Pension (DSP)
When a person starts working, the amount of DSP that they receive may change because of their income.
There are supports out there for people with a disability who are looking to find and keep a job.
Disability Employment Service (DES) providers
Disability Employment Service (DES) providers are organisations that help people with disabilities to find and keep your job.
You may be able to receive support from the NDIS to help build your skills to be ready for work, and also to receive support in the workplace when you get a job.
Get in touch
Contact Down Syndrome Australia for more information about this program.