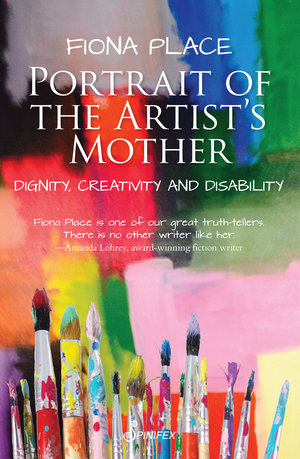 In the print journal we ran a review from Jackie Softly of the fabulous book Portrait of the Artist's Mother by Fiona Place. This book was so popular that we received an extra review!
Place,F. (2019) Portrait of The Artist's Mother, Spinifex Press, Australia.
You can purchase the book through Spinifex Press
Read both reviews below:
Review by Jackie Softly
Fiona Place is a national-award-winning writer and poet, a mother and an advocate for people with intellectual disabilities. In Portrait of the Artist's Mother, she writes about her experience as mother to a son with Down syndrome in today's Australia. Her son, Fraser Pollock (23), is an acclaimed visual artist.
Portrait, ten years in the writing, takes readers from Place's pregnancy with Fraser and through his life so far. Portrait, is far removed from anything I've read on parenting children with Down syndrome before. Described as 'one of our great truth tellers' and as writing 'glorious prose', Place's turn of phrase is why this book is so compelling.
Portrait is far more than the story of one person, one mother and one family. While we get to share in this family's often hilarious and sometimes terrifying child-rearing experiences, the book explores motherhood and what this means when you have a disabled child in today's society.
Place has produced a work with a number of layers, beautifully executed to create the final portrait. Fraser is always at the heart of the book, but Place also explores her family history and her personal experiences to understand their influence on her approach to motherhood and attitudes about disability. Her family's history, the characters, the reminiscences, the family's secrets laid bare and Place's own family relationships and her experience as a young paediatric nurse, come to life on the page in beautiful storytelling.
Another crucial layer to this book explores why today's society sees people with intellectual disabilities as less worthy of life, as people not wanted, needed or welcomed.
Place skilfully shows how the terrible history and politics of disability still influence modern-day Australia, explaining why a society that claims to welcome diversity chooses termination of babies with Down syndrome at a stunningly high rate, and excludes more children with intellectual disabilities from regular schools than it did 20 years ago.
In all the layers of Portrait of the Artist's Mother, there is a fundamental truth; if we want to understand the present, we need to see where we have come from. Fiona Place has done this with courage, honesty, passion for change and clearly, much love. Portrait is rich, raw and complex but immensely readable. I have highlighted so many passages and am bursting to read them out loud to anyone!
Portrait of the Artist's Mother has enormous potential to bring about change. As a mother, I want to share this book with all parents of children with disabilities, so they can understand why they and their children are treated as they are, and know how to create change.
Portrait should be read and shared far and wide; not only with parents, but on school and university curriculum and on reading lists for health and allied health professionals, educators, service providers and community decision makers.
---
Review by Margaret Booker
Fiona and I are parents of young adult sons with Down syndrome. Our experiences of raising our sons in the Eastern suburbs of Sydney have overlapped for more than two decades. Reading Fiona's memoir brought my experiences in all their lows and hard-won highs rushing back.
From the early fights to have our sons recognised as being entitled to mainstream services. Neither of us were 'allowed' to enrol our sons in mainstream public education; I can still visualise every detail of the room in which the Principal of the school first 'appealed to my understanding' then firmly ushered me out (her time being wasted). My shock and sadness as I registered my son and I were beyond the pale.
Fiona's insight in to how this outsider status impacted on us over the years is startling. How we, because of our love for our sons, haven't felt entitled to lament what we have sacrificed of our own lives. Friends fall away (tired of our attempts at justifying, long after the toddler years why we still can't reliably commit to social engagements) our careers are never what we had hoped for. And we feel tired, a different tired.
Fiona looks back now at the true cost of her son's education (the only school offering mainstream); an expensive independent school. The ripples and waves impacting the rest of Fiona's family are felt.
This book has so much more. Fiona writes like her son Fraser paints; Sydney and it's history come alive. Please look at Fraser Pollocks work on https://fraserpollock.wordpress. Fiona's visual descriptions of Sydney meant I enjoyed locating them in my own mind and felt myself back in a Sydney through seven generations of one extraordinary family. I was a witness to the complex grief of her own immediate family's tragedies.
We also see the changing (and remarkably fixed) attitudes and ideas about disability. We are brought into how these ideas are to help us with our new challenges of the NDIS. I want Fiona to keep writing her and Fraser's life story, as our challenges are always exceptional.
Have you read it?
Comment below and give us your review
Or get in touch to review another book you like