Advocating for meaningful work at full pay
By Cassandra Hughes, CEO, Down Syndrome WA
Life is meaningful when we are nurtured, supported and independent and where we have an ability to choose the life we want. Employment provides us all with the opportunity to grow, to learn, to socialise and to earn.
Earning provides us the opportunity to make choices for our life that require income, to participate in the community, buy a home, and to travel, being just a few. This is essential to our success as people, and employment is key. Advocating for the right to work for our members is pivotal to successful engagement.
To read the full digital issue of Voice, download a copy here.
Advocacy does not always look a particular way. We don't have to be sitting at a table full of suits, pressing our case. Sometimes, it is more likely that we are advocating 1:1 with an employer, introducing them and supporting them to understand employing people with Down syndrome and then advocating for each individual that we seek to place in open employment.
Finding the skills and talents unique to every employment candidate has been the key to the success of the appointments, then matching them with an employer who shares the same values and enthusiasm. It is also important that the tasks and role an individual is matched with, offer our candidates opportunities to utilise their skills.
Advocacy in its true sense is a process to support a cause, and by carefully advocating for each individual in open employment, we are, step-by-step, advocating for broad systemic change to the way we employ all people. Advocacy by its nature is not easy, or short lived, it is an ongoing process to ensure that the rights and dreams of candidates are met, and more importantly embraced.
In Western Australia, our employment program has continued to grow. We have focussed our attention on understanding our candidates' strengths and interests, while ensuring we understand any challenges they may face. Understanding the challenges provides valuable insights that help us to make the right connections for them. The program has been very successful, however not without its failures and challenges. The goal will always remain that our candidates are supported in their employment until, and only until, they are capable of working independently on meaningful, rewarding tasks that meet and develop their skills and provide them with challenges and growth.
Here are some of our recent employment stories.
Brayden
Brayden was impacted by the decision last year that his employer of 15 years would close. With concern for what the future might hold for Brayden, Down Syndrome WA (DSWA) worked with Brayden and his family to find a suitable role. Now working at Wire Aid in the factory producing and packaging their handwoven, steel hose restraints and stockings, which are critical safety products in the mining and industrial areas, Brayden is thriving.
Deeply enthusiastic, warm, and friendly, Brayden commenced at Wire Aid four (4) days per week. Brayden has been exposed to a range of tasks trying several tasks in the production and packaging areas. Over time, Brayden's workdays changed to three (3) days per week, to better suit his and the employer's needs. Through a process of trial and test, his strengths and areas for genuine growth were identified.
Brayden currently packs large industrial products, sorts them by code and prepares them ready for despatch. He isnow working on producing labels for the products with the support of his mentor, who assists by producing Easy Readprocedures to improve the ease of the task.
We have worked closely with the employer through advocacy via our DSWA mentor and Employment Coordinator, and in doing so, identified that with additional practice and development, Brayden would be able to participate in a greater range of tasks.
Brayden is a highly valued member of the Wire Aid team. His warmth and humour are appreciated by the team, as is his willingness to learn and try new skills. When asked, Brayden shared his love of his new role and being included. "I love working here, with the guys".
Jack
Jack works at The Boxman, a Perth company manufacturing cardboard boxes and other products. This is a long-established business with a sales team, office and factory/warehouse team.
The key to supporting Jack in his role was creating and implementing effective tools and procedures, to allow Jack to use his strengths and minimise challenges. Jack works in the showroom, stacking shelves and ensuring product is available for sale, as well as in the factory, packing boxes from individual items on large pallets to retail packs that suit customer needs.
The Boxman team have reached out for support and ideas to find ways to change their procedures, reducing the reliance on high numeracy skills and finding out ways that tasks could be completed. With Jack's employment mentor, they changed their systems from counting to have a physical measure that allows Jack to pack products effectively and very efficiently.
Jack too, has had the opportunity to try other tasks and has excelled at working on one of the cutting machines, which means lifting large and cumbersome sheets of cardboard, carefully placing them on a table and setting the machine to run and cut the product. The use of colours and symbols allows Jack to complete the task of operating the machine, and starting and stopping the process without support. Jack is currently working two days a week – one day with a mentor and one day fully independently.
Both Jack and Brayden have excelled in their new roles. The key to the success of the program has been the advocacy with the employer and the individual one-on-one work with the candidates.
---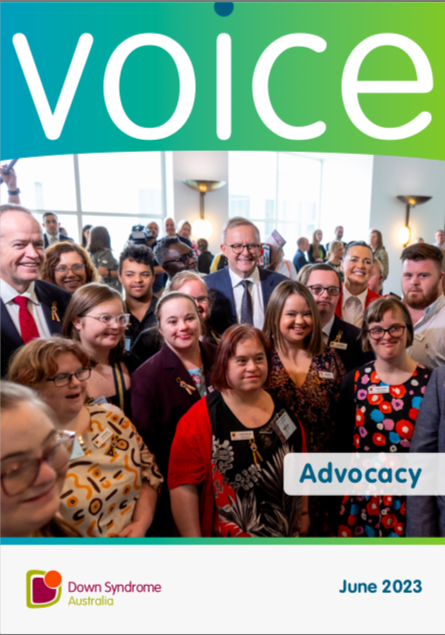 Download the full digital edition of Voice here.