Our Why
We work to support all people with Down syndrome to achieve their full potential in all life stages. 
We champion the rights of people with Down syndrome to be valued and to take their rightful place in the community.
Our Strategic Plan 2021-23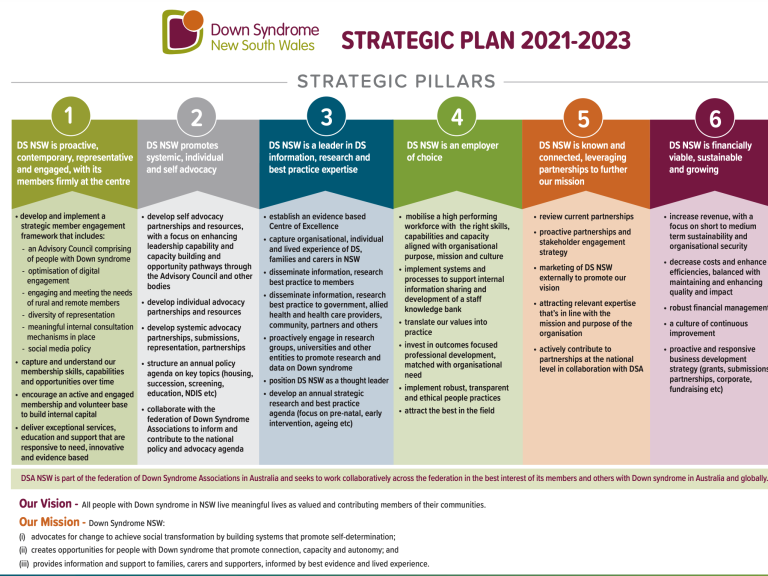 Your Support
The work we do is not possible without your generous support. If you wish to support the work we do and make a donation, you can do so online or please phone us on 02 9841 4444.
Our Impact
The Down Syndrome Association of NSW was established in 1980 by parents of young people with Down syndrome. As the children of the founding members grew to adolescence and adulthood, so too our services extended to all life stages. We now provide information and support, advocacy, capacity building workshops, training in schools, community participation programs, pre-natal expert advice, new parent resources and support and specialist employment preparation and connection.

We are an enthusiastic team of professionals with expertise in our relevant fields of service provision, support and advocacy. Some of us have lived experience with a family member with Down syndrome, some bring a range of expertise and industry experience. We are here to support you – all working together to help our members with Down syndrome achieve their full potential.
Down Syndrome NSW accepts membership via phone 9841 4444 or email. Once we receive your request, it will be presented to our Board for approval, in line with our Constitution. Membership is free and you can find out more here
Follow Us
---