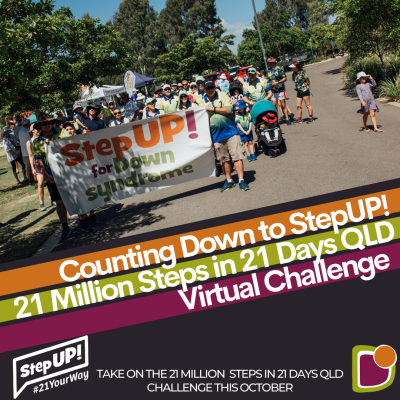 Throughout October we StepUP! to celebrate Down syndrome awareness month. This is a time to celebrate, recognise, and promote the skills, abilities and talents of people with Down syndrome. Funds raised allow Down Syndrome Queensland to continue working alongside people with Down syndrome to deliver services, programs and support, ensuring individuals reach their full potential and live the lives they choose.
Join the 21 Million Step challenge
Throughout October, the team at Down Syndrome Queensland are going to StepUp! and take on the virtual challenge of walking 21 Million Steps in 21 Days; we invite you to join our team for this challenge.
Our goal is to recruit at least 100 fundraisers to each take 10,000 steps per day for 21 days, which will see us reach our target of 21 million steps in 21 days.  
StepUp! #21YourWay
If a step challenge is not for you, that is ok. Choose your own challenge and do this 21 times during October. StepUP! #21YourWay.
Share your chosen challenge with your friends and family and get them involved by donating to you on your fundraising page.
Overview
Down Syndrome Queensland works for a better quality of life for people with Down syndrome by supporting and strengthening families and promoting positive and realistic images of people with Down syndrome.
It's dynamic & expert team of staff provides a range of services and supports throughout Queensland. The team is supported by a number of wonderful volunteers including the Board with services funded through grants, sponsorships, donations and fundraising. Down Syndrome Queensland is a registered charity established by parents in 1976.
Get Social
This message is only visible to site admins
Problem displaying Facebook posts. Backup cache in use.
Error: The user must be an administrator, editor, or moderator of the page in order to impersonate it. If the page business requires Two Factor Authentication, the user also needs to enable Two Factor Authentication.
Type: OAuthException
Get In Touch
Get in Touch
Street address: 282 Stafford Road, Stafford, QLD 4053
Postal address: PO Box 3223, Stafford DC, QLD, 4053
Phone: (07) 3356 6655
Email: office@downsyndromeqld.org.au
Office Hours: 8:30am to 4:00pm, Monday to Friday
Feedback and Complaints