Latch-On Project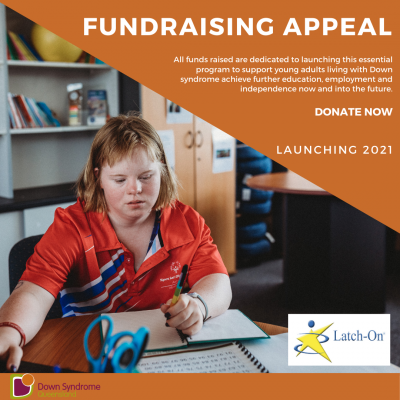 Did you also know that half of the adults with Down syndrome who are not employed and wish to work find it difficult getting a job?
One of the key reasons for this is the complicated pathways to employment and the lack of programs in place to build capacity for Mainstream Employment.
That is why, we are seeking funds to roll out a literacy program for young adults with intellectual disabilities developed by the University of Queensland, called Latch-On. Latch-On combines traditional literacy and numeracy teaching styles with technology instruction, also including health and fitness education. The program is delivered two days per week for two years.
Your donation will be used to maintain this program in Brisbane, and on the Gold Coast and Sunshine Coast. Donations, not only will you help the "Latch-On" program, they are also tax deductible. 
Overview
Down Syndrome Queensland works for a better quality of life for people with Down syndrome by supporting and strengthening families and promoting positive and realistic images of people with Down syndrome.
It's dynamic & expert team of staff provides a range of services and supports throughout Queensland. The team is supported by a number of wonderful volunteers including the Board with services funded through grants, sponsorships, donations and fundraising. Down Syndrome Queensland is a registered charity established by parents in 1976.
Get Social
This message is only visible to site admins
Problem displaying Facebook posts. Backup cache in use.
Error: The user must be an administrator, editor, or moderator of the page in order to impersonate it. If the page business requires Two Factor Authentication, the user also needs to enable Two Factor Authentication.
Type: OAuthException
Get In Touch
Get in Touch
Street address: 282 Stafford Road, Stafford, QLD 4053
Postal address: PO Box 3223, Stafford DC, QLD, 4053
Phone: (07) 3356 6655
Email: office@downsyndromeqld.org.au
Office Hours: 8:30am to 4:00pm, Monday to Friday
Feedback and Complaints