About Music Therapy
Music therapy playgroup is a fun and developmentally stimulating program for children up to 5 years old, facilitated by a registered music therapist. Parents and children don't have to be musical to attend, as the focus is on the children learning through involvement.
There are two music playgroups that run each Monday morning to ensure that the program is better able to meet the developmental needs of each child. Musical activities include music and movement, signing, instrumental play and relaxation.
There are a number of benefits to music playgroups, including:
Enhance early childhood development (Communication, Cognition, Motor planning, Sensory processing & Integration and Social development).
Nurture relationships between parent and child through musical play.
Give parents hands-on ideas for using music at home to stimulate, calm and interact with their baby or child.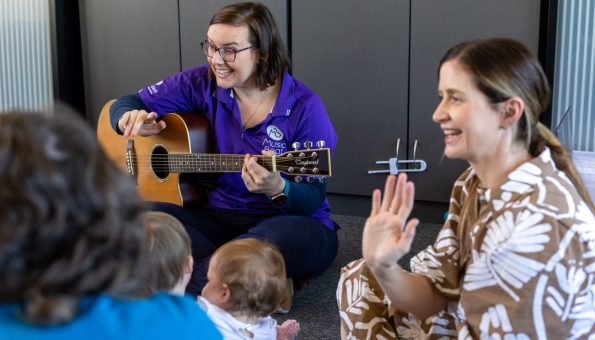 Join our Music Therapy playgroup today!
Day
Mondays (during the school term)
Time
9:15 – 10:00 am (2.5-5 years)
10:15 – 11am (0-2 years)
Where
282 Stafford Road, Stafford QLD 4053
Music Therapy sessions
The groups are small interactive and fun for all while involving a range of musical activities, such as signing, movement, instrumental play and relaxation. It's suitable for children with intellectual disabilities, including Down syndrome, and their siblings (along with a carer) from birth right up to school age.
The playgroup runs every Monday (during the school term) for 45 minutes across two separate age groups:
9:15-10am (weekly) – 2.5–5 years age group
10:15-11am (fortnightly) – 0-2 years age group
Music playgroups are run at our DSQ office at 282 Stafford Road, Stafford, and can be also offered virtual via Zoom. Please contact us should you wish to access a similar session regionally.
How do I access Music Therapy?
Please note the first session is FREE, however each session after costs $40.
To confirm attendance or for more information, please call (07) 3356 6655 or email admin@downsyndromeqld.org.au.
The Now and the Future Podcast – Season 5 Episode 2
Click below for more DSQ services: