About the playgroup
DSQ's playgroup, the Power of Play, is a Play Matters affiliated playgroup that meets every Wednesday during the school term and provides up to 2 hours facilitated play for families.
Each week a variety of themed activities are available for children up to 6 years old, including a 1-hour music therapy session facilitated by Sing&Grow (a national evidence-based music therapy program delivered by registered music therapists). Group programs focus on strengthening family relationships, building capacity in parents to support their children's development in the early years of life, and supporting children's transition to school.
There are a number of benefits to playgroups, including:
A wide variety of play-based learning experiences aimed at fostering children's social, emotional, physical, and cognitive development
An explicit focus on nurturing the parent-child bond and increasing parental capacity and confidence
Meaningful social interaction for both children and adults
Strengthened community connection with peers and local support networks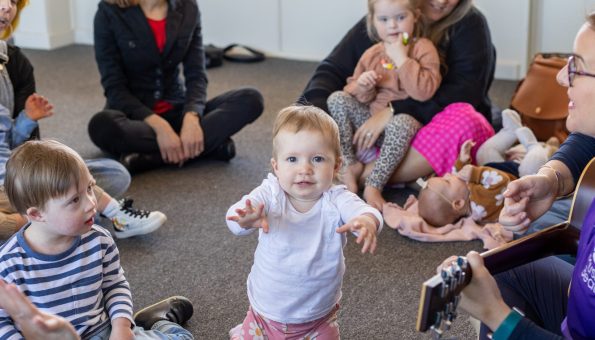 Join our playgroup, the Power of Play!
When
9:30 am – 11:30 am on Wednesdays (during the school term)
Where
77 Kitchener Rd, Ascot 4007
Cost
$5 per family
All children up to school age are welcome!
Power of Play sessions
The playgroup runs every Wednesday (during the school term) for 2 hours. Every month brings a new theme of activities for children and families to participate in.
Starting at 9:30am, the program involves themed play activity, morning tea and Sing&Grow music therapy. Bring a hat, water bottle, morning tea, sunscreen and a change of clothes (just in case).
Families are strongly encouraged to join in with all aspects of singing, craft, activities and play with their children.
How do I access the playgroup?
If you'd like to confirm your attendance to an upcoming Playgroup session, please email early_years@downsyndromeqld.org.au.
Call us on (07) 3356 6655 if you require any further information and support.
The Now and the Future Podcast – Season 5 Episode 2
Click below for more DSQ services: